The Burdens
Our branch of the Burdens were long-term Dorset residents and lived mainly in the Tarrant valley. The River Tarrant is a tributary of the River Stour and passes through 9 small villages or hamlets all with names starting Tarrant - like Tarrant Hinton. Each Tarrant has a small church with separate church records often going back to the 16thC, almost all of which have been indexed and/or transcribed for entries of baptism, marriage and burial. The Burdens and their spouses lived in these villages as well as nearby hamlets and towns. Our line of Burdens can be traced back to 1711 in East Stour, and records of earlier Burdens in the area are available but proof of a connection is illusive.
William Burden, born 1836
Our most recent history starts with William Burden,1836-1915, who was born in Tarrant Hinton and died in Charlton Marshall which is on the river Stour.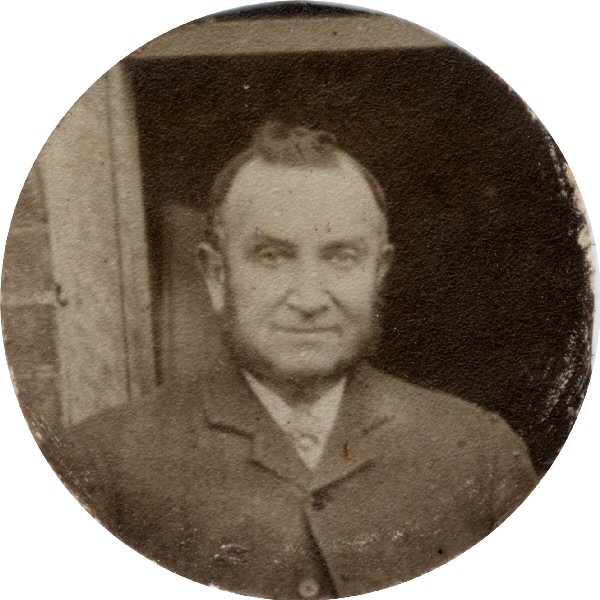 Like most men in Dorset in this period he started as an agricultural labourer, but was employed in 1961 as a groom at the Manor in Misterton, on the Somerset-Dorset border. However, by 1871 William Burden had graduated to become a coachman in his birthplace of Charlton Marshall.
Mary Ann Harding, born 1840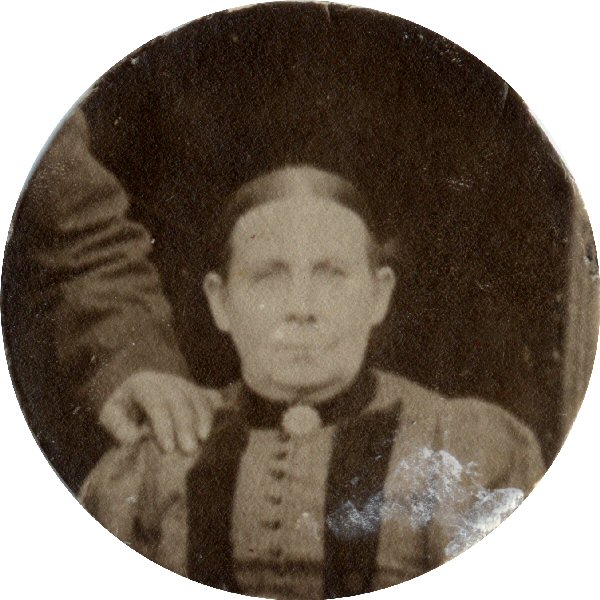 William Burden married Mary Ann Harding, 1840-1915, in 1867, at her home parish of Poole.
William Henry Burden, born 1872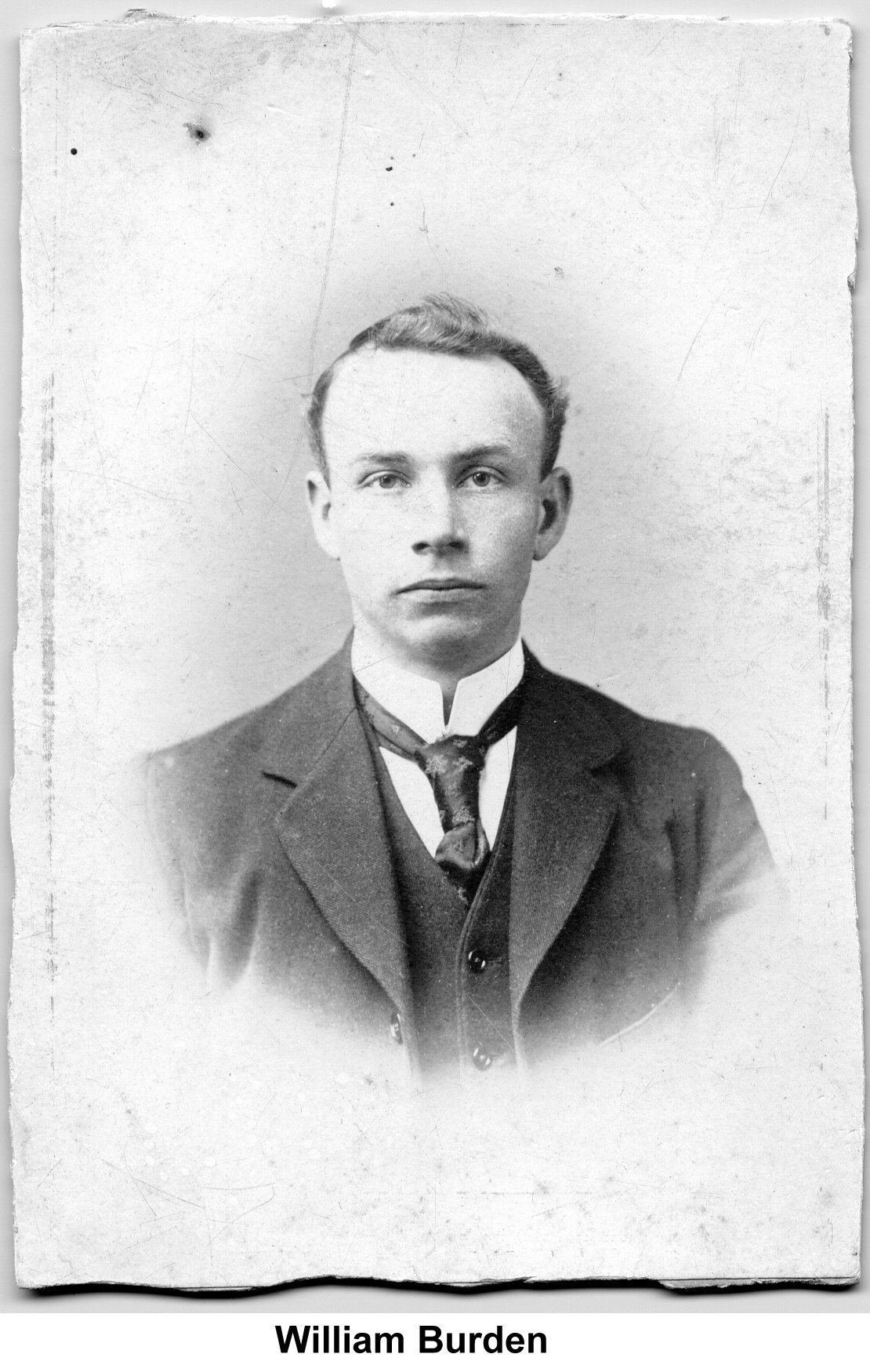 William Burden and Mary Harding's son, William Henry Burden, 1872-1929, was born in Charlton Marshall.
William Henry Burden also started his career as a groom and the 1891 census shows him living in the stables at Shalden Manor, Shalden, East Hampshire. However, the 1901 census shows he had also graduated to become a coachman, like his father, at Coker Court, East Coker, Somerset. At this time Coker Court was occupied by a barrister, Lionel CW Phillips, his wife, and his young family. While William Henry Burden was living at the Court as the Coker Court coachman, he met and, in 1902, married Agnes Priscilla Giles, 1877-1961, a local young woman.
Agnes Priscilla Giles, born 1877
Agnes Gilesí family had lived in the Coker district of Somerset for at least one hundred years, and most worked as agricultural labourers in the flax industry which was widespread in the area. The Coker district consists of several small villages and hamlets, like East Coker, West Coker etc., and the Giles families seem to have lived in most of them at one time. East Cokerís main residence was Coker Court, a large manor house in the centre of the village. Located alongside Coker Court is East Coker village church in which members of the Giles family were baptised and married. The graveyard contains many Giles burials although the Gilesí were too poor to afford gravestones and memorial inscriptions.
By the time of the 1911 census, Lionel CW Phillips and his family had moved to Unsted Park in Bramley, Surrey, where he had been born and which was owned by his father who was now deceased. William Henry Burden, and his wife Agnes Giles, moved with the Phillips family as their coachman, and occupied a cottage in the grounds of the park. However, as a consequence of WWI the Government of day decided that more horses were needed at the front to provide transport. So, the horses in the stables at Unsted Park were sent to provide transport at the front in France and this loss was heart-breaking for William Henry. However, he was retained by the Phillips and he and Agnes continued to occupy their cottage on the Unsted Park estate and raised their expanding family.
[Note that after WW2, Unsted Park became a NHS hospital, and is now a private hospital run by the Priory Group.]
The children of William Henry Burden and Agnes Giles were all baptised at the Bramley church local to Unsted Park.
Leslie William Burden, born 1903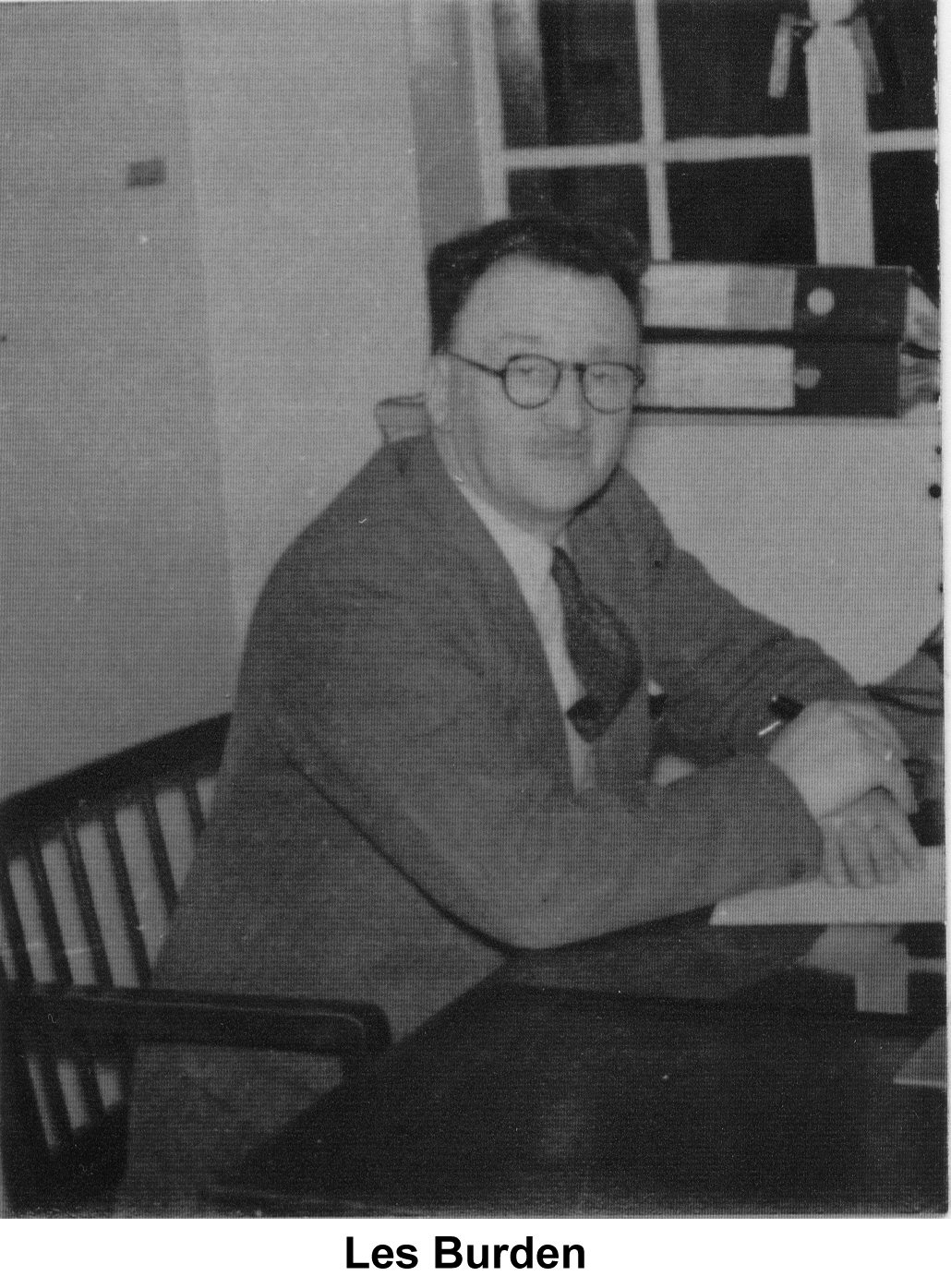 Leslie (Les) Burden, 1903-1980, was born in the Burdenís cottage on the Unsted Park estate, on 31 December 1903, and baptised in March 1904 at the small local church in Bramley, Surrey, near Unsted Park.
Leslie Burden (Les) spent his working life as a site manager and engineer for the Ministry of Public Building and Works (MPBW) causing him and his family to relocate to a number of locations in the UK including RAF Sealand, and abroad including Singapore. However, he spent a number of years as the site manager at Henlow where some of his family grew up. Les and Alice shored their Henlow home, Stanpit House, with their dog Butch. Les and Alice had five children: Michael, 1933-1996, Maureen, 1936-2011, Marjorie, Malcolm, 1940-1987, and Millicent, 1948-. Les died, of a ruptured aorta, in Trowbridge where he was staying for a few days with Mollie and George.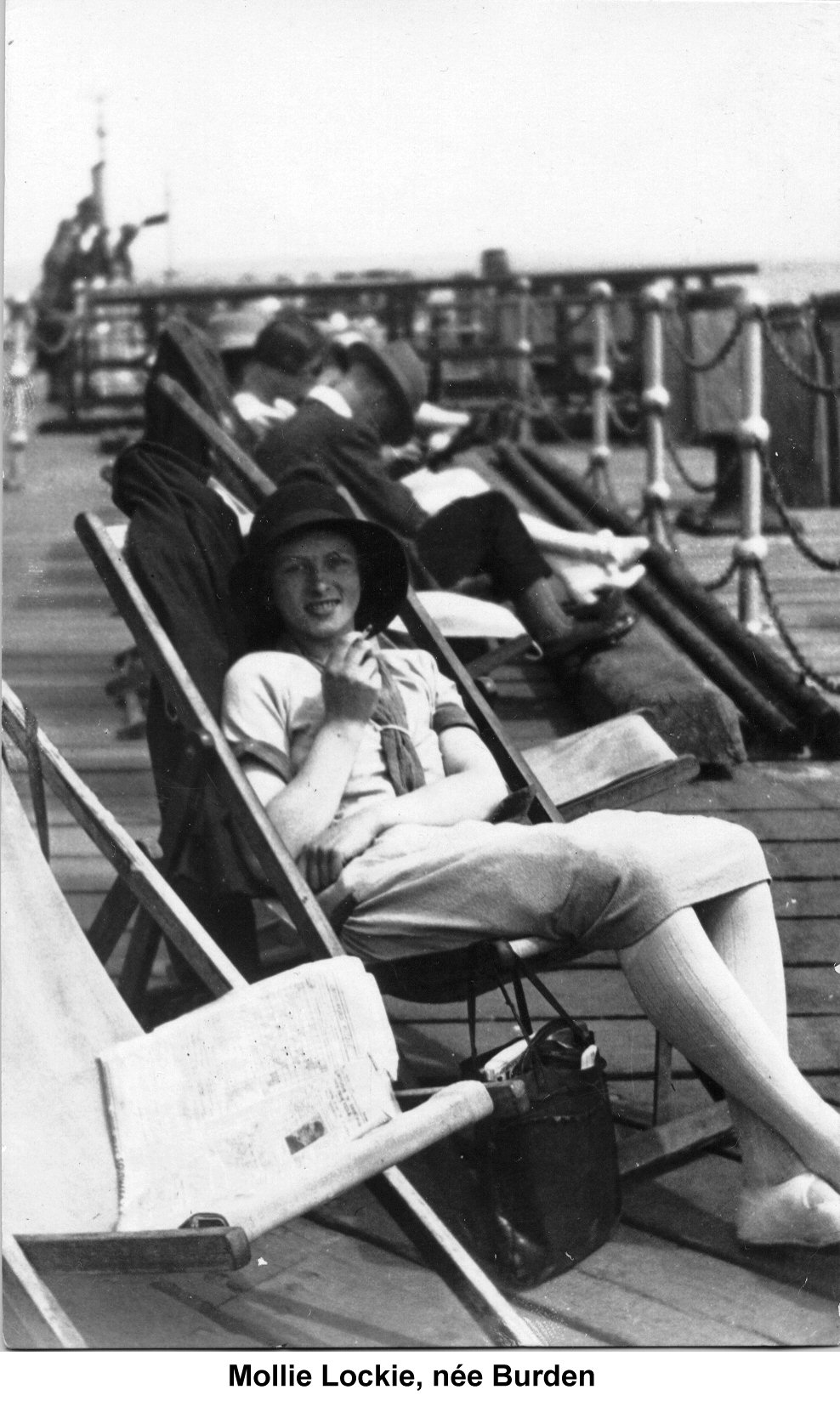 Marjorie (Mollie) Burden, born 1908
Marjorie (Mollie) Burden, 1908-2006, was born in East Coker in August 1908, and baptised in January 1909 at the small local church in Bramley, Surrey, near Unsted Park.
When Mollie Burden was old enough, she was apprenticed to a dressmaker in Godalming, Surrey where she was living at the time, and she continued this career for most of her life. In 1939, Marjorie was introduced to George Lockie by Alice Crooks, Leslieís wife, and they married before George was sent with his squadron to France and Belgium with the British Expeditionary Force before returning via Dunkirk in 1940. George and Mollie had two children: Marquita (Quita), 1940-2013, and Melvyn 1945-.
Ronald (Ron) Burden, born 1913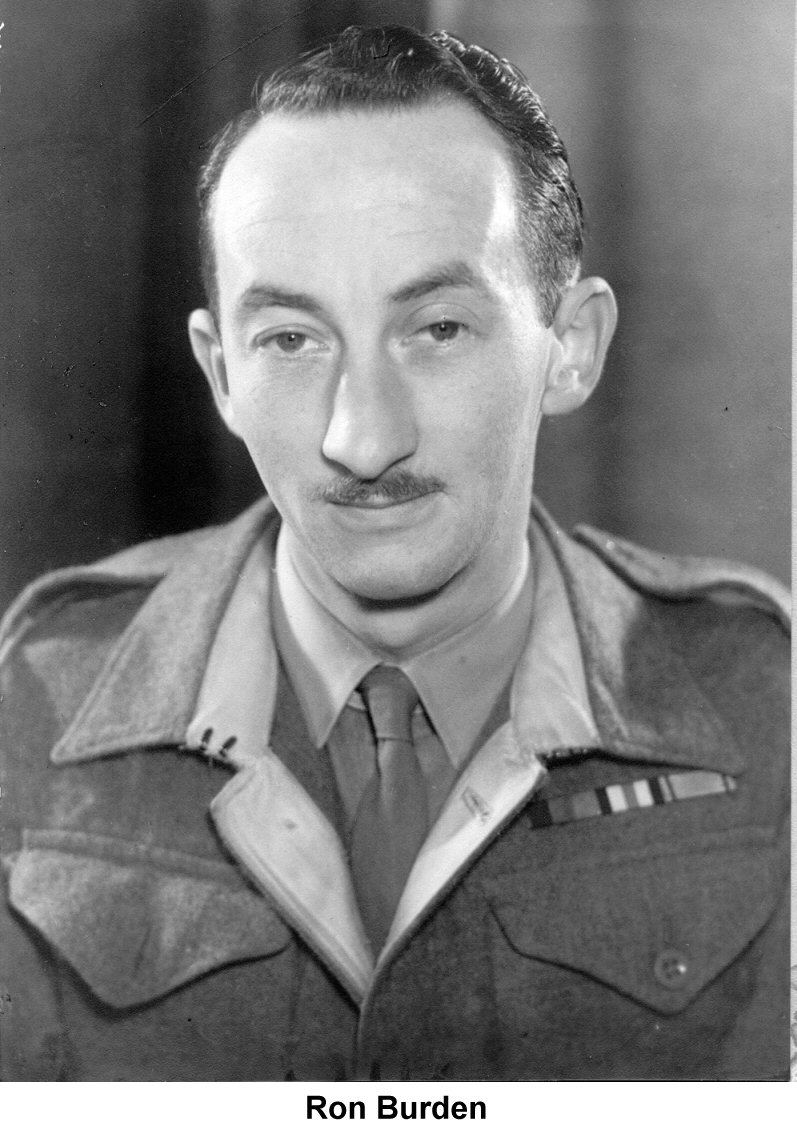 Ronald (Ron) Burden, 1913-1974, was born in late 1913 in the Burdenís cottage on the Unsted Park estate, but there is no record of his baptism, possibly because the onset of WWI in 1914.
Ronald Burden spent his working life as a gentlemanís outfitter for the Kinch and Lack company in Guildford. He was an accomplished shop assistant, and very popular with Kinch and Lack customers forming a large clientele who always asked for his service in the shop. He never married and took on the task of looking after his mother Agnes Burden in their house in Godalming, sharing it with his dog Scamp.
Ron was conscripted in WW2, served in the Royal Artillery, and took part in Operation Market Garden, the failed attempt to capture and cross the Rhine bridges in Holland. He was cut off by the German response and was hidden by a Dutch family for several weeks before he was able to rejoin the advancing Allied forces. The Dutch family grew fond of Ron and gave him a doll as a gift for his young niece Quita who called the doll Erica who was a loved companion into adulthood.
William Henry Burden died in the Unsted Park cottage in 1929, and Agnes, with the assistance of the Phillips family, went to live in and rent what became the Burden family house, Cinque Ports, in Godalming. By 1939, Agnes was still living at the family house in Godalming. Les Burden had left home and had married Alison Crooks, 1911-1976, in Selkirk in 1932. Marjorie Burden was living with Agnes and Ron at the family home but was married to George Lockie, 1914-1985, who was serving in France. Ron was also living at the family house in Godalming but was destined to be called up to join the Army.
When the family house in Godalming came up for sale, a family conference resulted in Leslie, Alice and Ron buying Cinque Ports jointly and they all lived there together until it passed by inheritance to Millicent.
Return to top of page